Search Engine Land brings news about a new Google Initiative. In brief, Google Ads reps are about to start making changes to advertiser accounts. Unsolicited changes. I guess this is an immediate direct threat to Yodle or Reach Local.
Why would Google do this?
To make more money: I'm sure they have data showing that actively managed campaigns, spend more than non-actively managed accounts. So I am not surprised that Google is intervening more in advertiser accounts. I am surprised that they are using humans to do this.
Google has been relentless about automation in their advertising platform:
Ad copy is now much more automated than I ever thought possible.

Ad units – actual graphical ads – are being automated via Smart Shopping Campaigns that do perform well but are ugly.

We, as an agency, are partially judged by what % of our clients use Google's bidding automation tools.

Google says outright that keyterm buys will eventually be sunset, and that we'll all let Google's algorithm decide where/what/when to run our ads, and in what units.
So it is a bit of a surprise to see Google saying some version of "key, automation is still great, it's still coming, but now here's an additional human layer, too!"
We here at Mason have the following observations about this:
A low-level google trainee out of Detroit – because that's who will be making these changes – should not be acting unsupervised on your behalf. They can't know what your goals are.

Contextless changes – because a Google-only view that doesn't know what's going on with your Radio, Instagram and Facebook efforts, lacks context – should not be acting on your behalf. They can't see the whole picture.

Google has a habit of rotating reps off of accounts after 6 months – which means that you, a small business, will have to re-educate these remote, low-level employees, twice a year.
We will be opting our clients out of these efforts.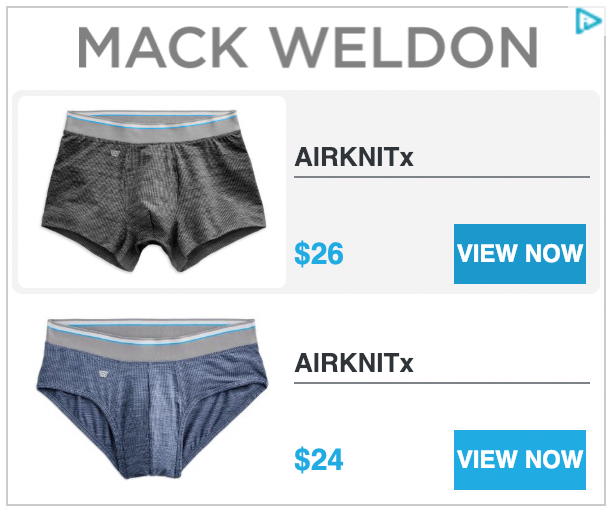 This is an example of a Dynamic advertising unit, created by Google Smart Shopping Campaigns. Clients – especially upscale clients – do not like these, because they don't highlight the brand very well. We like these ads – and I'm sure Mack Weldon's agency likes them plenty – because they simply out-perform.